In Loving Memory of
Dale Earnhardt, Sr.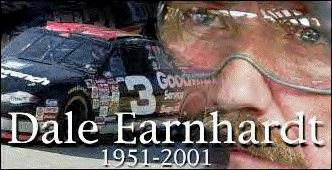 Make your dad proud, Little E. We'll miss you Dale. Rest in peace.
My heart broke, right along with the rest of the racing world on Sunday. I can still hear the words "We have lost Dale Earnhardt" ringing in my head like a bad dream. I couldn't believe it! How could that be?! The Intimidator, Gone? What a tragic loss. At nearly 30 years old, I have been a loyal fan of Dale's for as long as I can remember. I never bought into the commercialism. Everyone *knew who I was rooting for. Heck, I don't own the first thing that has the number 3 on it. I wish now that I did. I don't have a single piece of memorabilia of my driver.
In all these years of watching him race, I have never seen Dale give up an opportunity to win. My 2 year old son and I were perched on the couch watching the race, I said to him "Look at Big D, Clay! He's going to block everyone so Michael Waltrip and Dale Jr. can go for the win". Then came the crash. It wasn't extrordinary. I've seen Dale wreck umpteen times and walk away with shrugged shoulders saying "That's racing". This time he would not walk away. Who could have known? He was allowing his son and teammate Waltrip the opportunity to go for the Daytona checkered flag. That selfless act that was a sacrifice that will never be forgotten. Not by me, not by the world, not by Michael Waltrip, and not by Dale Jr. The Intimidator died doing what he loved, racing on a track that he loved, and watching 2 folks that he loved race for their big finish. NASCAR has lost a legend and will never be the same.
Teresa, Dale Jr., Kerry, Kelly and Taylor, my thoughts and prayers are with you. Thank you for letting us be a part of Dale's life for so many years, and for letting him be a part of ours.
~Love, Lorie, Gary and Clay Jackson
While I was reading online the news about the accident, I came across several loving tributes that I thought would be fitting here. I don't know who authored most of them, but I gave credit where it was known. These are so beautiful and touching. Grab a box of tissue...
Today we mourn a hero. The "Man in Black" is gone, but his legacy forever lives on. I still sit here in disbelief, with tears in my eyes, mourning the loss of greatness and praying to the skies. I can still hear the words "Dale Earnhardt is dead" but I know he will live on each time the words "Gentlemen, start your engines" are said. There's a racing league in Heaven and when God calls the roll there will be : Petty, Irwin, Bonnett, Kulwicki and Earnhardt on the pole.
~Author Unknown
More Poems from some terrific writers in Dale's Memory.
ONE QUARTER MILE FROM HEAVEN
Like a guardian angel from four cars back,
Watching Michael & Dale Jr. as they circled the track
No intention of winning, just holding his place,
So proud of his "boys" now winning the race.
We though it was over, the end was so near.
No time for pain; no time for fear.
We did not know, as there was no sign,
Dale was only one-quarter mile from his final finish line.
Within an instant, NASCAR fans would be facing,
An eternal change in their world of racing.
He was one of the greatest; beloved in his sport,
With a grand career now sadly cut short.
All the crowd noticed was excitement and debris,
But a miracle was happening we could not see
Dale said goodbye through shining metal and chrome,
As God gave "NUMBER 3" the checkered flag "home".
But forever in our hearts, and in the scheme of things,
We'll picture him circling heaven with black and red wings.
Grinning; telling angels..and even the Creator,
"Look out over there...here comes the "INTIMIDATOR"
~Author Unknown
Dale will be Watching
We watched as he whispered in Little E's ear
and hugged and kissed his wife
and as the National Anthem played
with eyes closed he reviewed his life.
We watched as he carried out
his plans to lead the laps,
and as he raced he sawthe holes
and caught every draft.
We watched as he played "bumper cars"
and his determination never waived.
Today would be a special day,
the most meaningful of all days.
We watched as he held the pack
behind his leading boys
We watched as he unselfishly gave in
to give Michael the winning joy.
We watched the car swerve
as ole #3 hit the wall
But we just knew that he would be
back to blow the doors off them all.
We watched as news reports said "the Intimidator is gone"
and the unified heart of a nation broke,
but Dale was never alone.
Dale's fourty nine years were but a vapor
as his life passed our way,
His life was to teach and inspire us
and then quickly he slipped away.
Dale's soul stepped out of the mangled wreck
and took his Savior's hand,
and with a grin and a twinkle in his eye
he waved to the fans in the stands.
He turned and watched Michael and Little E,
fly past the finish line,
and he knew he had done his best
and someday they would be just fine.
Ole black #3 is happier now
than we could ever know
For He is with God now,
and the racktracks are pure Gold.
But every day and every Sunday
he'll be watching from above,
and his spirit will ride with Little E
with a father's neverending love.

Author -Angela Holloway-

"Watching All The Race World Cry"

One lap to go
But who will win
The other guys are moving in,
Intimidated - NO
Their hopes now end
For he's a father and a friend,
No need to win
"I'll sacrifice...
For I don't need to win it twice",
But then the spin
Caught so off-guard
The unforgiving wall... so hard,
So God reached down
Inside Dale's car
Then placed in heaven one more star,
The whole world weeps
And why? What for?
Because a hero... is ...no more,
They try to sleep
They don't know how
They're feeling such a void right now,
And now I weep
But I know why.
I'm watching all the race world cry...
His faithful clan
Who sang his song
The ones who thought he did no wrong,
The Gordon fan
And others such
The ones who "didn't like him much",
They weep as one
His too short life
They think "His kids... his friends... his wife,"
Then dawn..., the sun,
Now memory
A checkered flag for number 3
And so it goes.
Is this God's plan?
To help him see his love for man?
For just He knows...
The reasons "Why?",
Well, Dale Earnhardt... God Bless... Goodbye
Author Unknown
The Day Dale Earnhardt Died

Some events in life make your blood run cold
Needless to say my blood was ice, when this news I was told.
The Great Intimidator, Dale Earnhardt was dead
I just could not believe what Jerry Punch had said.
I had seen the race's finish hours before
But this shocking news chilled me to the core.
To think of the world without Dale in his shiny, black car-# 3
Was way too much for even me to conceive.
Plus the sorrow felt by his kids and his wife
To see him gone after such a short, yet eventful life.
This seems far too much for anyone to have to bear
Mostly for his family and friends, but also for the fans who care.
I did not know him, but his many racing feats
Each race day had me glued to my seat.
So, you see, my sorrow I could not hide
On this sad day even this stranger had to cry.
No one can ever know what the future may hold
But we should be like Dale, brave and bold.
Who knows? Someday in the sweet bye and bye
I might get to meet Dale Earnhardt in that great victory lane in the sky.

Author Unknown
NEXT -->>More Poems from some terrific writers in Dale's Memory.