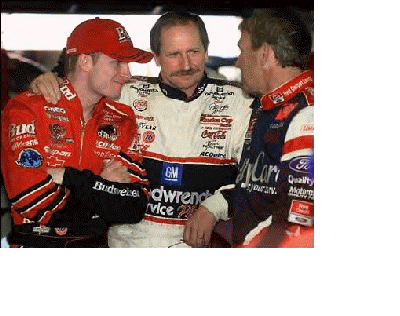 Fallen Comrade

A breeze was blowing on Daytona that day.
The fans were standing happy and gay.
The race was exciting, with action too an fro.
Until #3 crashed while helping his "bro"
Turn four was silent as the car came to a stop.
Life had been taken from the cream of the crop.
Earnhardt had died on impact that day.
The news came out, the fans didn't know what to say.
The world was stunned and had a big tear.
Something that would last most of the year.
The race had been exciting for most that day.
Except in turn four where Earnhardt did lay.
The workers did take him to the hospital real quick.
He had taken quite a lick.
They tried what they could but he wasn't fine.
Dale Earnhardt died at age foty-nine (49).
His family was stricken with saddness and sorrow.
It will last well past tomorrow.
That night at the track the fans did weep.
Many of them couldn't even sleep.
Dale's up in heaven with all of his friends.
Neil, Davey, Adam, Kenny, Alan, and a host of others.
He is our fallen comrade as we can all see.
So let us retire the black #3.
In closing I bring you a final goodbye.
Author Unknown
"The Intimidator"

Dale wasn't a selfish man
He always tried the best he can
He was the intimidator
And no-one could play it better
I feel your loss Little E
In my heart is were he will always be
Your father died doing what he loved
And know he's in heaven watching you from above
I never known he as a friend
But he was family until the end
Author Joseph Honaker

Untitled
I don't follow racing, but know a few who do,
I could feel their pain, because I cried too.
It was sad to watch a man give his life,
for a friend and son in front of his wife.
But I know friends and family weren't ready today,
for him to go so soon this way.
He will be missed and remembered well,
if he is watching we cannot tell.
It seemed like fate or part of a plan,
for God to take such a well loved man.
We look forward to meet him in the sky,
Because we didn't get a chance to say good-bye.
This is my way to bid farewell to # 3,
My prayers go out to his fans and family!
Author Unknown

The Loss of a Legend
--In Memory of Dale Earnhardt

A loss of a legend is so hard to understand
Why would He take such a strong, young man?
This legend set records & broke them, along with the rules
He made many respect him and many to lose their cool

They say, "You either loved him or hated him", but I know that's a lie
Even though he infuriated us from time to time
We all loved and honored the black, red, & white
And now we will mourn him after his last race last night

Irony surrounds only the great ones, you may've observed
Who would have guessed the irony that would occur?
The place he conquered in nineteen ninety eight
Would be the place that God would seal his fate

By "great ones" I don't mean just a great driver
I mean a great father, a husband, and a lifetime survivor
He has left a legacy that will live in us forever
That is why we must honor him as one family - together

If you didn't know him
You can learn a lot from his name
He EARNed all he achieved and his HEART made racing
A phenomenon, not a game

When God calls us up to the heavens in the sky
Look for him there with a twinkle in his eye
He'll have that # 3 placed upon his back
Racing with the angels - the leader of the pack.

Author Crystal Breedlove
Untitled
We saw him spin and then he crashed,
We never thought it would be his last.
The last thing he saw was the red #8,
Then in a flash his life was passed.
We were all men in black and wore #3,
With pride in our shirts and hats.
No matter where he finished, either first or last,
He was still on top in our stats.
We live for Sundays to see the green flag drop,
And watch #3 from start to stop.
We watch the leader board and all cheered,
When our #3 made it to the top.
We helped him accelerate and turned the wheel,
We had that in the car with the Dale Earnhardt feel.
But today all we could do was shed tears,
As we bowed to pray and we kneeled.
God when you see his smirkey smile,
Give him the first pit on the from straight a way.
Then announce to the others that are already there,
It will be racing the Dale Earnhardt way.

Author David Cagle



Untitled
Down the final stretch you came,
going left and then going right.
Holding back the others,
with your son and teamate in sight.
Letting Michael take the win,
and son Dale Jr. closing in.
We watched in horror,
as your car hit the wall.
Not knowing how far you had to fall.
When the news finally came,
we knew there was no one to blame.
The track it took you so many
years to tame
Would also be the one,
of your life, to claim.
Now with tears in our eyes,
and sadness in our hearts.
From you, Dale, we must now part.
Author Unknown

Untitled
Though he is gone, his time has past, his memory will forever last in all our hearts and all our minds, as the intimidator crosses the finish line.
Now he races the oval track in the sky where the stands are packed and the sun sets high.
Its truely a track for champions, where everyone has room, no rubbing no bumping not one single bruise.
this is the track where God waves the flags to start them all and is always watching to make sure there is no pain at all.
Author Unknown
WHAT ARE YOU SUPPOSED TO DO WHEN A HERO DIES?
Tribute to Dale Earnhardt, Sr.

Sports news channels have youplastered all over the screen tonight
relating the most intimate details of your day
-a couple weeks short of 50...
-closer to your family than ever...
-1 lap short of victory.... NEVER...

You spent this whole race doing what you loved ...
doing what you do so well- bumping and grinding,shoving...intimidating.
After 18 cars decided to clusterand crash, a couple taking to the air,
the establishment didn't hesitate to croon over the safety of the cars.

If Tony Stewart can fly over John Andretti, be smashed 20 times,
and walk away...
the lengths that this sport goes to for safety, is simply amazing.

The Sporting News predicted the big news of NASCAR 2001 last month.
It wasn't the Dodge. It wasn't the expanded racing schedule.
No. The big prediction of 2001 was that Michael Waltrip would win his first race
out of 483 starts.

And as Michael streaked to fulfill this prophecy
with his newly retired and tearful brother in the announcer's booth...
with your son pushing and shoving, just like his father,from behind...
with you playing the guardian so that no big bad monsters
would cut in and steal the thunder, we all sat on the edge of our seats and laughed,
and cheered, and cried. We'd done the same thing a couple of years before
when it was you who finally had won.

Dale Earnhardt-
great protector, black intimidator..
protector of son, protector of the driver who you believed would finally win.

As we screamed and cheered, while Darryl went nuts in the box,
and we knew of this great sacrificeyou were making,
hanging back in third, keeping the peace -
something went incredibly wrong.

Whether you lost your air or were bumpedsomewhere from behind
we will remember,forever, intimately, personally, vividly,
in super slow-mo the sickening spin as you turned to the side
and the M&M's car had nowhere to go...
as we watched you become one with the wall.

I've never met you. I can't claim to know you.
It's as if I look up into the sky and yet another star has been
snuffed out without explanation.
Tell me, what are you supposed to do when a hero dies?
Author Unknown


Untitled
A fine Daytona afternoon, the season just begun.
My boys were running one and two, and I was having fun.
I probably could have won the thing, but something held me back.
I was busy watching Dale and Mike -- and holding off the pack.
I was looking toward the front and not really to the rear.
Something tapped me on my bumper, but still I had no fear.
I thought it might be Sterling - I knew he was nearby.
When Sterling smells the checkered flag, I'll tell you, he ain't shy.
I slipped a bit. I turned the wheel. I sensed something very odd.
It wasn't Sterling's tap I'd felt. It was the tap of God.
Not now," I said. "I'm racing hard. There's work still here to do."
"Your time is up," He whispered low, "So say a quick adieu."
I wasn't really ready, but I didn't have a choice.
He'd tapped me on the bumper and I'd heard His hallowed voice.
So I did as He instructed. I just packed it in and left.
I guess it can't be helped that I left some of you bereft.
Did you see those birds upon the wall as they scattered in the breeze?
Will it make it any easier to know that they were me?
There was also Davey, Dad and Neil and some other guys I've known.
And they all came to Daytona just to escort me on home.
Hey - congratulations, Mikey! You made a worthy run.
I wish you many, many more. You're wins have just begun.
All that fun you had in Victory Lane, I was proud as proud can be.
Did you see a seagull flying low? Yeah, Mikey, that was me.
So, friends and fans and family, don't mourn me for too long.
Get on with life - take care of things - be brave and proud and strong
I'll surely miss you every one. About that I will not lie.
But as long as you remember me - I didn't really die.
Author Unknown



NEXT -->>More Poems from some terrific writers in Dale's Memory.